Rebeca had spent many a happy hour with her colleagues at the Parkview Tavern in New Orleans, but one night 11 years ago she lingered a little longer than usual. It was on this night that Brian made himself known. As Rebeca put it: "Brian barged into the conversation I was having with another woman, and we kept talking long after she left. The rest, as they say, is history."
Their proposal was not a traditional one. In fact, Brian actually popped the question three times before Rebeca agreed to make it official. The couple had only recently moved together from New Orleans to California when Brian asked the first and second time. Rebeca said 'no,' knowing it would be too much of a challenge planning a wedding while relocating their lives.
The third proposal, a low-key affair in their living room on Rebeca's birthday, happened right after they watched a particularly depressing film on Netflix. A "no-big-deal proposal" Rebeca called it, but a very sweet and personal one. Brian presented her with an amethyst halo ring, something Rebeca had mentioned years earlier. "I told him that I either want an amethyst (birthstone for both of us) or a sapphire ring, as I am not a big fan of diamonds," said Rebeca. "It should not have surprised me that he listened, but it did."
Rebeca and Brian chose their venue, Les Musee de f.p.c. (or the Museum of Free People of Color), for its close connection to and celebration of Rebeca's African American heritage. The building is a beautiful Greek Revival mansion that celebrates the history of free people of color in the US, particularly New Orleans. On an aesthetic level, Rebeca loved the sweeping architecture and storied antiques collection, which made decorating the venue a simple task.
The couple had a Unitarian Universalist ceremony full of light, love, and tradition, carried out by a UU minister from New Orleans. Together, they lit a candle at the start of their ceremony to signify the opening of sacred space, a UU tradition. It was a very personal event, with 50 guests and a tight-knit wedding party of four. The Matron of Honor and bridesman were college friends of Rebeca's, and Brian's Best Man and groomswoman have been his friends for more than 30 years.
As part of their ceremony the couple Jumped the Broom, an African American wedding tradition symbolizing their union and their shared household. Their mothers first took turns waving the broom to "sweep away the past" and clean up negative energies. Then, they lay the broom at the couple's feet for them to jump over. For Rebeca and Brian, this was a moving and meaningful way to include their mothers in the ceremony.
When it came to the details, Rebeca approached her choices with a laidback, no fuss attitude. Although she did not adhere to a strict theme, Rebeca is a bit of a Francophile and their Bastille Day wedding incorporated a number of French elements. She crafted simple bouquets, corsages, and boutonnieres of French lavender with white roses which lent a vintage, romantic feel to their celebration. Representing Brian's militaria collection and the couples' shared love of Doctor Who, Rebeca included spent shell casings, a Doctor Who-themed cake topper, and a TARDIS guest book.
For their cocktail-style reception, the couple committed to traditional New Orleans foods, complete with a grits bar. They served wine and beer, along with a signature drink. "I named the drink 'Summer's Kiss' after a favorite song of mine by the Afghan Whigs," Rebeca said. A take on the French 76 cocktail, they used lavender syrup instead of simple syrup to match their flowers.
Instead of a traditional wedding cake, Rebeca and Brian chose a croquembouche. Although they could not present it complete with fireworks (the cake is usually brought out in a darkened room and decorated with lit sparklers) the tower of cream-filled puff pastries dripping in caramelized sugar was, of course, a huge hit with their guests.
Brian is a musician and Rebeca a huge music lover, so for this couple live musicians were nonnegotiable; they hired a violinist and guitarist to play for their ceremony and reception. Brian chose the bridal party processional ("The Time of Love is Now" by T-Rex ) while Rebeca chose to walk down the aisle to an arrangement of Pearl Jam's "Future Days."
"I think only my Matron of Honor and I (both of us are big Pearl Jam fans) recognized it, but it was so special to me," Rebeca said. "We chose "Warm Love" by Van Morrison for our first dance. All of those songs were very special to us, and we were happy to have them as part of our day."
These were very meaningful songs, but for both Rebeca and Brian the absolute highlight of the day was their traditional New Orleans second line - a joyful parade complete with a brass band. "For a wedding, the bride and groom lead the brass band and the wedding guests," explained Rebeca. "People twirl umbrellas or wave handkerchiefs in the air, and dance through the parade."
"Essentially the recessional from our ceremony went straight into the second line. I was so excited to grab my umbrella and get going, I actually forgot to kiss my husband - that was quickly corrected!"
Besides keeping the guest list small, Rebeca's main difficulty was planning a New Orleans wedding all the way from California. They were only able to make one trip to New Orleans to tour venues. "The next time we were in New Orleans was a week before our wedding." Rebeca said. "That meant not meeting vendors in person - not tasting food, not having a make up trial, and all that."
Rebeca also found the distance meant she couldn't be as hands-on as she would have liked. Instead, she had to trust her vendors and skip some of her DIY ideas. She admits she likely saved some money on crafting and expensive trials, but says it was a definite challenge.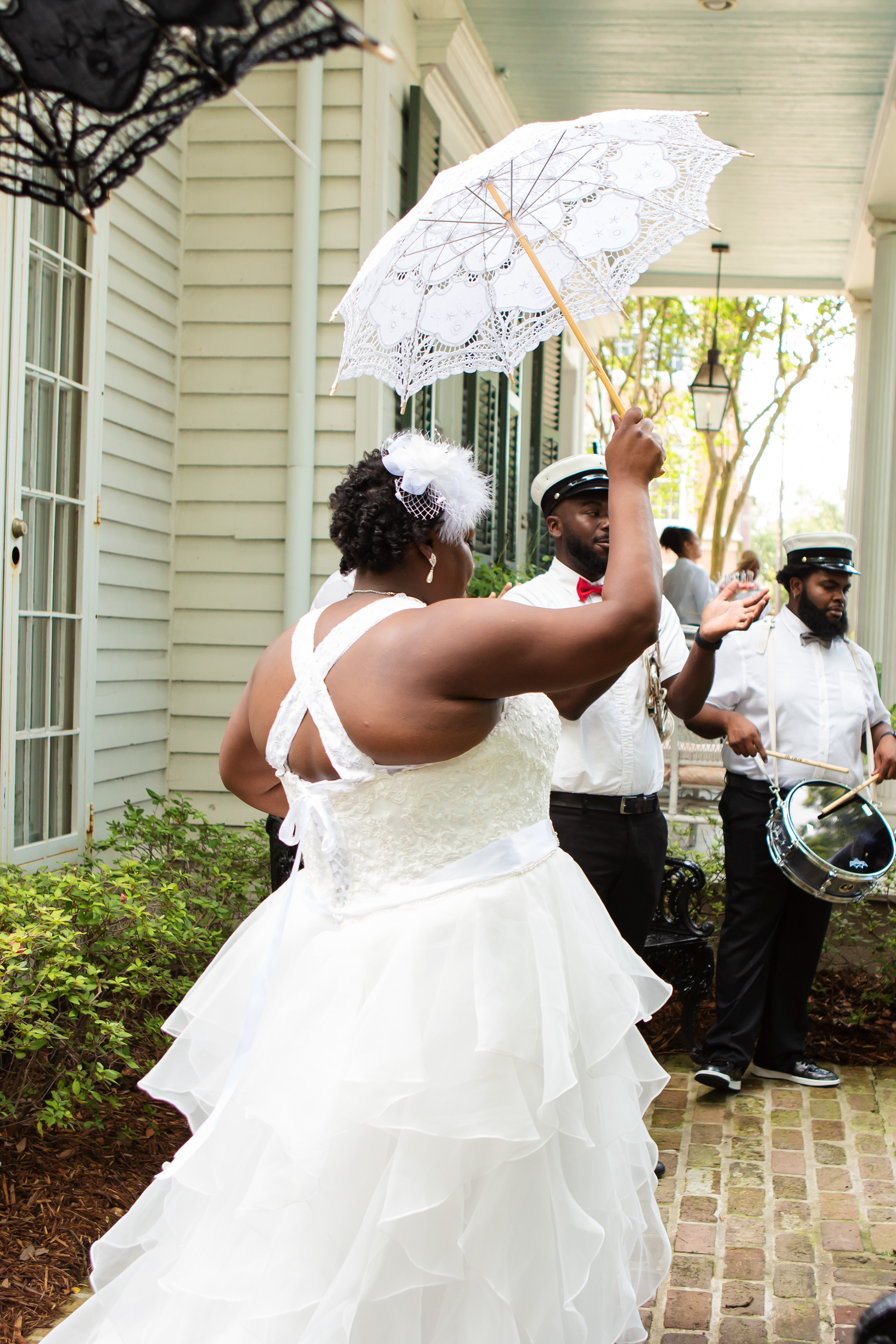 Rebeca's dress was bought preowned and altered to include the corset back and detailed straps.
Her 'something old' was a silver necklace that belonged to
her late grandmother.
Rebeca's best advice for the Big Bride-to-be is to focus on the people who matter most, rather than worrying about the trivial stuff.
"A lot is made of all of the details - decor, centerpieces, the dress - but at the end of the day your wedding is about joining your life and family with that of your partner. So keep that at the forefront of everything you do," she said.
"Our wedding was wonderful not because of the details, but because our families mixed and mingled and they showered us with love and support."